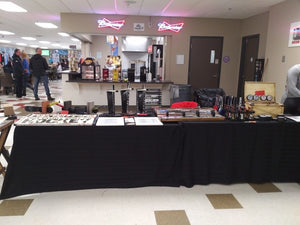 Hey everyone, Friday is here and we'll soon be heading to the third day at the Ice Jam Hockey Tournament being held at the BMO arena in Bedford, Nova Scotia.  
We've met some amazing people the last couple of days including several people who are great followers of ours on Twitter.  Some of the hockey players and families have had some great stories to share, special shout out to the gang from two Newfoundland groups.  We've been made to feel so special and we can't believe how much you have embraced our products, our mission and our story.
There's great hockey here to watch, and if you're in the area you should take in a game.  You won't be sorry.
Until next time..........